Community Engagement and Events
Upcoming Opportunities for Engagement
Below are recent or upcoming opportunities to get engaged with COMPASS-FME.
NEW! COMPASS-FME Community Speaker Series
COMPASS-FME has launched a virtual community speaker series, with presentations every other month in 2022. The COMPASS-FME Coastal Research Community Speaker Series features a 30-minute talk by a project or community researcher, with ample time reserved for discussion around synergies and areas of potential collaboration.
Seminars are held via Zoom on the third Thursday, every other month, from 12:00 to 1:00 p.m. ET, 9:00 to 10:00 a.m. PT. See below for upcoming speakers and registration links.
>> August 18, 2022 | 12:00 - 1:00 p.m. ET
SPEAKER: Lauren Kinsman-Costello, Assistant Professor | Kent State University
TOPIC: Redox controls on biogeochemical cycling
Archive
June 16, 2022 | 12:00 - 1:00 p.m. ET
SPEAKER: Ken Krauss, Research Ecologist | USGS Wetland and Aquatic Research Center
TOPIC: TBD
April 21, 2022 | 12:00 - 1:00 p.m. ET
SPEAKER: Holly Michael, Associate Professor | University of Delaware
TOPIC: Coastal groundwater dynamics
February 17, 2022 | Community Speaker Series Presentation
SPEAKER: Pat Megonigal, COMPASS-FME Chief Scientist | Smithsonian Environmental Research Center
TOPIC: Plant-Microbe Interactions in Coastal Wetlands Impart Homeostasis on Greenhouse Gas Emissions
---
2021 Environmental System Science PI Meeting
The Department of Energy's Environmental System Science (ESS) Program held its inaugural Principal Investigators Meeting virtually on August 17-19, 2021.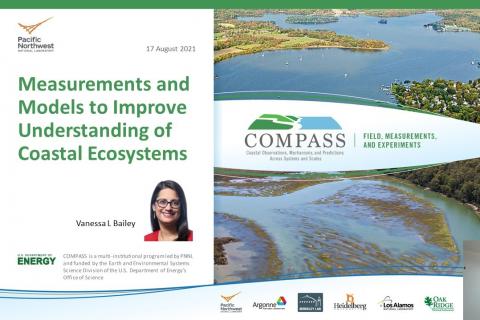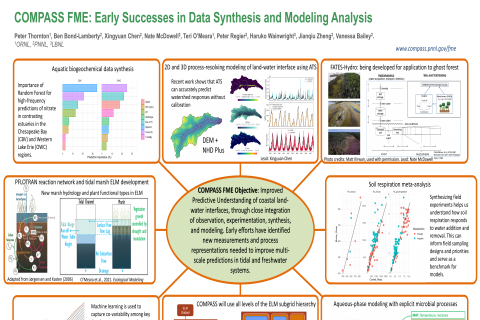 COMPASS-FME: Coastal Observations, Mechanisms, and Predictions Across Systems and Scales - Field, Measurements, and Experiments
Presenter: Vanessa Bailey
Gaining a predictive understanding of coastal ecosystem responses to press and pulse salinity and inundation disturbance
Presenter: Anya Hopple
EXCHANGE: Exploration of Coastal Hydrobiogeochemistry Across a Network of Gradients and Experiments
Presenter: Nick Ward
News